Google Workspace, Slack, or Microsoft Teams: Which is safest for your business?
With the onset of the pandemic and transformation in workplace behaviors, remote work has reached a climax. Many companies face the same question – what is the best collaboration tool for working at home? Businesses are rushing to use collaborative software to keep their productivity high in these uncertain times.
There are many options, but we decided to delve deeper into; Google Workspace vs. Slack vs. Microsoft Teams' positive and negative security features.
Microsoft Team Positive Features
Teams enforces team-expansive and organization-wide two-factor authentication
Single sign-on through Active Directory and data encryption in transit and at rest.
Microsoft Team Negative Features
A flaw in Microsoft Teams could allow a hostile actor to view a victim's chats and steal sensitive data. An actor might set up a malicious tab in an unpatched version of Teams that would provide them access to their private documents and communications when opened by the victim. (Source: the daily swig)
Users in teams do not have the structure from the beginning. You don't know which channels you need or which channels you should build most of the time. The maximum number of channels per team has been limited to 100. This feature should not be a problem for smaller units, but it may cause difficulties for larger groups. When the predefined limit is exceeded, specific channels must be terminated.
Over time, users get increasingly accustomed to and proficient at what they do. You can't switch channels or reproduce teams right now; thus, creating Team blocks isn't very flexible. This frequently wastes time because manual replications become the only option.
Slack Positive Features
Improve communication between departments and improve the ability to contact and notify people quickly. The user interface has a unique look and feels with various color schemes.
This speeds up the update process, and the two-factor authentication provided by Google Authenticator is reliable and error-free.
Using Slack on mobile devices is as easy as using the desktop version, and the huddle feature makes it even more convenient.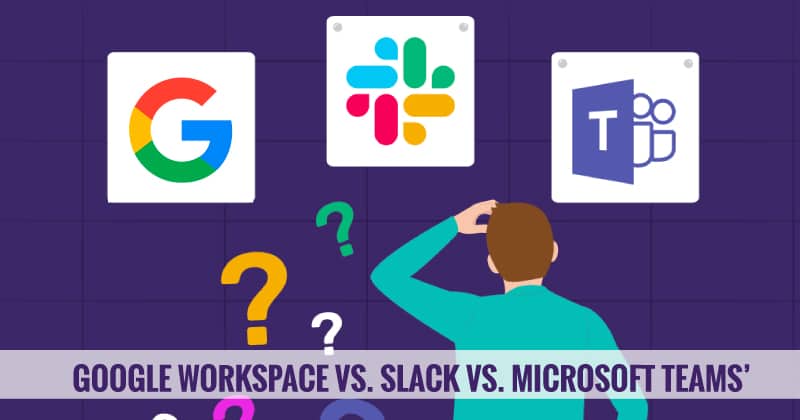 Slack Negative Features
1 Working with larger teams is not a good experience as you might experience glitches and connection unreliability now and then.
Searching should be enhanced; it is currently unorganized. Grouping allows you to evaluate if the findings are helpful in the future. DMs, for example, and channels are examples.
Notifications for mobile and desktop don't always operate in sync. The system is also out of sync when going from desktop to mobile. There's a lack of consistency in the workflow there.
Google Workspace Positive features
Focus on collaboration: Google workspace is a dream for companies that need intensive cooperation in many ways.
It's based on the cloud and is always connected to Google's cloud storage and file-sharing platform, Drive.
Email: Gmail referrals are rarely needed. It is the world's most popular email client, strengthening its market position with excellent security tools, an easy-to-use interface, and numerous features ideal for business and personal use.
Google Workspace Negative Features
Document conversion issues: You may have problems converting Google Sheets and documents to Microsoft documents and PDF formats. You need to find a third-party app to help with the conversion. There's something a little…flat about Google workspace and Docs integration. Yes, it's a word processor, so there's not much to do with it, but the compatibility issues hinder the experience.
Takes hours: It may take some time to import data or documents from other external sources into the system. File management is a pain. The entire process feels clumsy, leading to a great deal of disorganization inside our company.
Instead of downloading individual software onto your mobile device, you'd wish there was an option to download the complete Gsuite into one app. Because Gsuite is essentially confined within a single browser, users expect all apps to be in one spot.
Technology has gone far over the years, and the effect from the COVID 19 gave birth to the introduction of several electronic offices where members of an organization can meet and discuss issues they could have done when they physically met. This work has compared the pros and cons of each platform and is considering Google Workspace with its specific qualities and consideration of future security.
Solution: Create a high-speed remote desktop hosted virtually on a private server… like we have.. what a coincidence…