Protected Harbor Customer Appreciation Night!
Last night, Protected Harbor hosted our first-ever Customer Appreciation Night at Armoni Inn & Suites, Orangeburg, NY. 15 different companies and over 40 people joined us throughout the evening. We are grateful for the opportunity to meet with everyone and show how much we appreciate and value their trust.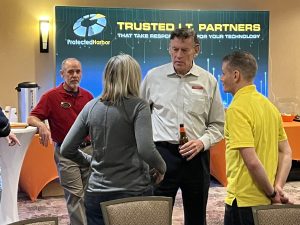 The reason why our team feels so proud to work for your company? It's because of you! Protected Harbor is committed to ensuring every customer has an outstanding experience from start to finish – no matter what vessel they choose. We always strive to exceed our client's expectations daily while also making working at Protected Harbor one of the best places to work. We wanted to recognize those who helped make that possible.
This was also another excellent opportunity for us to meet potential clients, hear about their businesses, and learn how we can help them grow. We discussed the things that matter to us as people and chose to discuss topics like business, cybersecurity, and the economy. Our team had a blast during the event! We started with a networking hour, finished the day with happy hour drinks, and ended with some light dinner discussions. It was a great day; we met many new clients while celebrating our old ones.
"It's not just about our partners succeeding; it's about their employees being safe and growing. That's why we've invested heavily in building an employee-integrated cybersecurity program. The goal is to give businesses the tools and guidance they need to stay secure in this online world." – Richard Luna, CEO of Protected Harbor.
What's Next?
Our strategic plan focuses on accelerating growth for small businesses by empowering them with enhanced modern-day infrastructure and cybersecurity tools. We're making great strides, but there's still much work to be done. We have big plans for 2023, including expanding our security and monitoring capabilities with new AI-powered bots, launching an AI-powered Recommendations engine, and extending our services for our partners.
We're also focused on growing our business in new ways, like expanding our downloadable products feature beyond E-commerce and partnering with new companies to serve our customers better. We are excited about what the future holds.
Protected Harbor launched a cybersecurity awareness month this October to update you on the latest threats and how to stay safe. Also, with our series Uptime with Richard Luna every Thursday, we discuss trending business topics and reassure your doubts regarding technology.
We want to extend a very special thank you to our customers for your loyalty and for choosing us as your trusted software vendor for the past two decades! Contact us to know how our experts can help you.