How Secure Are VoIP Calls?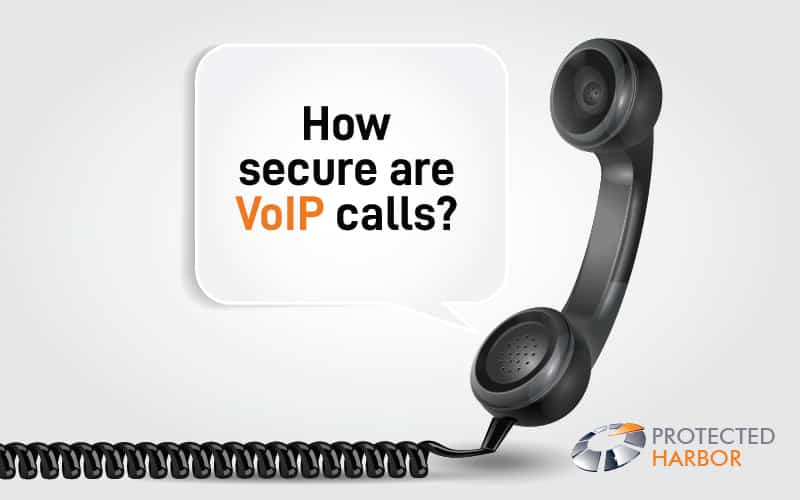 VOIP is a top-rated phone service because it offers many perks over traditional landlines. They're generally cheaper and more convenient, but are they really any more secure? You should know a few things about VOIP security before making the switch.
VoIP is great for small businesses. Its advanced features allow small businesses to compete with the big boys in customer service. VoIP has many features that will enable your staff to stay connected to your customers in various ways, including missed call texting and automatic call distribution. These features are ideal for any business, especially those that travel frequently. But how safe is your business from hackers when you commit yourself to VoIP?
Why Should Businesses use VOIP?
To keep your VoIP communication secure, you'll need to protect it from hackers. These hackers can steal confidential information from your network, including customer and employee information. They can also use this information against you – blackmailing you or selling it to your competitors. The same is true for the internet. In addition to these issues, you should also make sure that your VoIP service provider encrypts all your data with SSL.
For starters, VoIP eliminates long-distance charges from your communication bill. Because VoIP uses the Internet, you won't pay extra to call long-distance. Just like your ISP won't charge you for visiting websites from around the world. Compared to the traditional circuit-switched telephone network, VoIP calls are 60 percent cheaper. International calls are 90 percent cheaper. And with fewer phone lines, your company's infrastructure can also grow. This makes VoIP the best choice for businesses in a growing economy. In addition to lower costs, it's easier to manage. You can set up and operate your phone network with a single service without hassles.
Because VoIP allows you to work from any device, your staff can use the same number from anywhere in the world. The same software is used in call centers so that telecommuting employees can work from their home computers. Employees can use their phones in the office or on the road. If you need to reach a large group of people, VoIP is a great option. You can even use VoIP for a small team, and you won't have to worry about the quality of the call. With the flexibility that VoIP gives you, your staff will work more efficiently.
Furthermore, they can make important business calls from anywhere. Your mobile devices can connect to your VoIP provider over a hotspot with VoIP. This means you can stay connected even when you're out and about. It's one of the best ways to save money. It's also easy to manage.
How secure is VoIP?
As businesses embrace cost-saving VoIP (Voice over Internet Protocol) technology, they must also address its limitations. Suppose you're working with sensitive information, such as private client data or intellectual property. In that case, you need to know that the method of communication you choose will protect your data and keep it private.
The security of a VoIP call depends on the network it's travelling over. The two most prominent protocols in use today are SIP (Session Initiation Protocol) and H.323. But, as always, the devil is in the details. To signal and govern interactive communication sessions, the Session Initiation Protocol (SIP) is employed. Voice, video, chat, instant messaging, interactive games, and virtual reality are possibilities for such interactions. H.323 is an ITU Telecommunication Standardization Sector (ITU-T) guideline that specifies protocols for audio-visual (A/V) communication sessions across all packet networks.
Is VOIP Cyber-secure?
First of all, it's essential to consider the source of your VoIP. Are you using a public WiFi connection? If so, it's possible that hackers could hack into your network. And if you're using a secure office connection, your data could be compromised. You should also check whether the provider's IT infrastructure is protected against different types of network attacks. Ultimately, the answer to that question will affect the security of your calls.
Another way to increase your VoIP security is to keep your VoIP network updated. Most VoIP phones offer a default password for their users. You'll want to change this to something more complex. For instance, you should set a password at least ten characters long. You can also add extra security measures like firewalls and VPNs to your VoIP network. These steps will significantly improve the security of your network. Just check for updates and make sure they're running the latest versions of this software.
VoIP Encryption
Voice encryption is an important and necessary measure. It prevents hacker access to your call information and encrypts the content of your call. Advanced encryption is also used to protect your call information from hackers. SRTP is a protocol that applies the Advanced Encryption Standard to data packets. It offers message authentication and additional protection against replay attacks. (For more information, visit https://securevoipcalls.org)
SRTP (Secure Real-time Transport Protocol) is a security protocol that protects the contents of voice calls. It is an important security measure, as SRTP adds message authentication to protect sensitive company data. Moreover, if your employees steal confidential company data, a phreaking attack can be a significant security risk. Encrypting and adding layers of security is the only option. Therefore partnering with a VoIP service provider could be a viable option.
You might think that VOIP calls are not secure and could be intercepted by a third party listening to what you are saying. However, encryption is often used to protect data as it travels on the internet, including VOIP services such as Skype and FaceTime. While encryption cannot guarantee that no one will listen in, it will make it much harder without some very sophisticated equipment and software. The most common protection is through 256-bit Advanced Encryption Standard (AES) encryption. This is used by Apple, Microsoft, and some other tech giants.
Conclusion
VoIP has proved some high-level security features leaving many to believe that it can be safe for business discussions and non-sensitive conversations. However, this is not always the case. Improperly using your phone can allow eavesdroppers to listen in on your conversation. Suppose you would like to remain secure while using VOIP, but if you want the value of VOIP and are still unsure about the security, there are always extra steps you can take to increase safety, connectivity, and reliability.
All VOIP providers will create a unified VoIP solution that is easy to use at a lower cost than traditional business phone systems. Next-level providers know how to take it a step further. Ensure your business VoIP service is connected throughout your business phone, video conferencing, employee cell phones, customer service chats, and your employee's remote workstations. Additionally, these providers offer accurate managed phone services, including advanced technology and cybersecurity solutions.
For instance, at Protected Harbor, we give each client a dedicated VoIP phone system and their VoIP server within our data center that we own. They are managed, programmed, and monitored by Protected Harbor full-time engineers allowing us to avoid outages before they happen and instantly modify systems and setting for optimal use.
Protected phones by Protected Harbor is one of the best unified VoIP solutions providers. High-quality, low price, and easy-to-use services have made it incredibly popular among consumers. But that's not it; features like Live 24×7 support, dedicated remote system, highly configurable, and SIP forking make it the ultimate choice over the VoIP providers. Experience the quality yourself; book a call now.