What Is Network Observability, And Why Is It Demanded In The Cloud And IoT Era?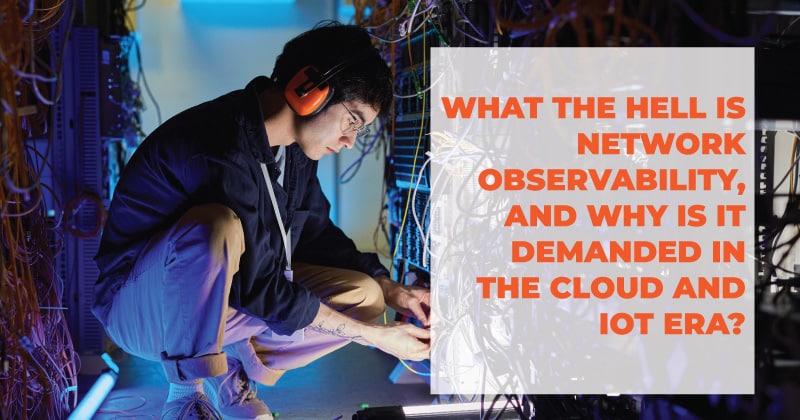 Implementing dynamic network infrastructure design has become more critical than ever to securely connect with people, devices, applications, and data to support our evolving working environment. What can be the first thing we need to consider for this challenge? We cannot control or secure all kinds of connectivity if we don't see what is happening in our network. By default, networks are distributed systems, and network visibility is vital in distributed systems. However, can network monitoring be good enough to better network visibility in the Cloud and IoT era? If not, what can be the solution?
Today's enterprise digital infrastructure is comprised of hybrid cloud and on-premise solutions. Complex operational models manage these technologies, but their operational visibility continues to be a concern for most businesses. Read how large enterprises are securing their data?
The best way to gain network visibility is by leveraging network observability rather than network monitoring. This article explains what network observability is, why it's necessary, and how it can help you manage your hybrid cloud and IoT infrastructure.
What Is Network Monitoring?
Monitoring is a passive data collection and surveillance practice used to measure the performance against pre-set standards. Monitoring equipment has been deployed over the years depending on more static, traditional network environments without frequent changes. However, these tools can be deployed throughout the corporate network.
It offers a centralized view of the operational health of the underlying network and infrastructure. Network monitoring might give alerts based on connectivity, downtime, or service degradation but does not give deeper cause or hypothetical exploration of unknowns provided by an observability platform.
What Is Network Observability?
According to Gartner, Observability is the evolution of monitoring into a process that offers insight into digital business applications, speeds innovation, and enhances customer experience. So we should use observability to extend current monitoring capabilities. Network observability is intended to have a deep knowledge of network health to provide an optimal end-user experience. When teams observe networks deeply, they understand ways to solve problems, correct them, and improve network performance to prevent future errors. Here are the main differences:
Network Observability
Network Monitoring

It focuses on network health from the end-user perspective
reduce administrator time to detect root cause and remediation
Applies a broader range of information to pinpoint the leading cause
provide service assurance to guarantee quality services
uses next-generation AI and streaming telemetry

less focused on network health
NetOps staff handle alerts manually
Monitors deviations and baselines traffic
Uses proven protocols and tools
The Current Challenges With Network Monitoring

The rapid shift towards cloud technology and related trends, such as SD-WAN, has changed the concept of network monitoring. Still, the traditional network performance monitoring tools are not keeping up with advanced networking technologies. Here are some issues regarding conventional network performance monitoring tools.
Traditional Network Performance Monitoring (NPM) tools do not include metadata or routing policy, network security, or cloud orchestration information.
Basic network connectivity info such as IP/MAC and port numbers are insufficient to analyze network traffic securely.
The tools can't handle cloud scalability, as cloud customers produce terabytes of VPC flow logs every month. So Typical network packet sniffer solutions do not work in the cloud environment.
Conclusion
As mentioned above, challenges associated with network observability can be solved by implementing a combination of network monitoring and network analytics solutions. These solutions can help you get a high-level view of network activities across your hybrid cloud and on-premise environment. – Network monitoring: Network monitoring solutions are responsible for gathering network data from all network devices. They can help you identify issues that may affect business continuity and performance. – Network analytics: Network analytics solutions can be used to gain insights into network activities, such as network anomalies, performance, and capacity issues. Additionally, the data from the network monitoring solutions can be used to build network analytics dashboards.
Protected Harbor Zero Trust NAC can solve the challenge.
Network observability is necessary to ensure that the networks remain secure, reliable, and scalable. It is crucial for organizations that rely on hybrid cloud and IoT architecture. A hybrid cloud architecture, cloud migration, and end-to-end digital transformation are the primary reasons for network observation being demanded. A Zero Trust network architecture is the best way to achieve network observability.
Protected Harbor's Hybrid Cloud Network Orchestration and Security platform is powered by a Zero Trust Network Access Control (NAC) engine. This network access control engine is designed to enforce a Zero Trust architecture and help achieve network observability by:
Device identity: Identify devices and enforce access rules based on device identity and user identity.
User identity: Identify users and enforce access rules based on user identity.
Endpoint compliance: Detect and enforce endpoint compliance using agentless endpoint compliance and vulnerability assessment.
Endpoint threat detection: Detect and quarantine endpoints with malicious activities in real-time.
Session visibility: Monitor and analyze all network traffic to detect suspicious activities during a session.
Session compliance: Detect and enforce session compliance based on policies.
Session threat detection: Detect and quarantine sessions with malicious activities.
Session compliance enforcement: Ensure all network traffic conforms to the policy.
Session visibility: Monitor and analyze all network traffic for all sessions.
Port visibility: Monitor and analyze all traffic on ports.
Protected Harbor Zero Trust Network Access Control (NAC) can log and monitor traffic coming from all branches and remote users using Cloud Gateway. The total network traffic can be observed. However, you can only watch and control unauthorized or non-compliant devices.
Most importantly, Protected Harbor Device Platform Intelligence powered by Cloud technology can enhance network visibility more contextually by correlating network connectivity info with business context (e.g., Connected devices' EoL, EoS, manufacturer) and risk-related information like CVE. Overall, you can monitor and control all connected devices' activities holistically without losing business performance, so you can substantially boost the success of an organization's operations.
If you want to know more about how network observability can help your business, or if you want to see how you can simplify your network infrastructure, we'd love to talk.