GoodFirms.co Recognizes Protected Harbor as a Top Cloud Computing Company
Today, Protected Harbor was recognized by GoodFirms, a leading review platform for software and service providers, as one of the Top Cloud Computing Companies in the United States.
GoodFirms is a revolutionary research and review platform with a worldwide database of software service providers. To link service providers and their relevant customers, GoodFirms analyses the company on three crucial parameters: Quality, Reliability, and Ability. Customer reviews and published interview articles are also considered for the evaluation process.
Here is what GoodFirms' Anna Stark had to say about Protected Harbor's IT Support and Cloud Computing Solutions:
Started in 2009, Protected Harbor delivers technology stability and durability for organizations, resulting in flawless operations of desktops, data centers, and applications. The company implements a Technology Improvement Plan (TIP) that involves industry best practices to resolve issues. The TIP offers protection with the help of unique Application Outage Avoidance (AOA) technology and support from the Support Resolution Team.
Interestingly, Protected Harbor works with organizations to solve more complex problems and be more responsive. The company focuses on direct end-user support while assuring that the company's back-end operations like web servers and computer networking run effortlessly.
The team strives hard to resolve issues before they become problems, enabling organizations not to be worried about the technology. The company aims to turn technology back into a benefit and not a cost center. The team finds long-term solutions that help clients focus on their business processes. The clients can have reliable, durable, and secure business technology solutions with Protected Harbor.
Indeed, the Protected Harbor guard businesses and their IT operations from attacks, whether known or unknown, that include Ransomware, Malware, Viruses, and Phishing. The customers can efficiently make their business IT strong and keep their business protected and safe from ransomware attacks, viruses, useless subscriptions, phishing attacks, and end-user problems with Protected Harbour.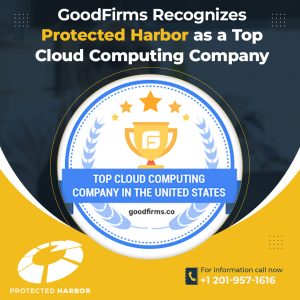 Protected Harbor aims to ensure clients achieve optimal technological productivity. The company treats clients as partners and thoughtfully listens to the client's business and technology issues, and delivers technology solutions tailored to the client's business requirements.
Protected Harbor offers a wide range of secure colocation solutions for healthcare organizations to handle healthcare challenges. Team Protected Harbor enables clients to protect their desktop issues such as ransomware, malware, and virus protection. Clients have complete remote access and 24 hour, 365-day support.
The unified VoIP solution and VoIP software phone system, video conferencing, and mobile app are easy to use and effortlessly protect clients' phones. Plus, the clients can have the power of desktop QuickBooks and the security and convenience of a remote desktop connection with Protected Books. The protected data center and hosting solution virtually eliminate crashes, failures, and outages.
This one-stop technology company offers solutions that involve software, hardware infrastructure, cloud migration, disaster recovery, security, and cloud back-up. The company offers customers remote cloud access, 99.99% uptime, proactive monitoring, and private cloud backup.
The team of experts enables clients to get value from the virtual office-hosted solutions and efficiently work with businesses of all sizes to carry out business operations faster. The clients can migrate their systems to the cloud to reduce and control IT costs, enhance security and disaster preparedness, minimize maintenance, and increase the workforce's productivity.
Consequently, the excellent cloud computing services enable Protected Harbor to gain a prestigious position amongst the renowned cloud computing companies in the United States at GoodFirms.
Apart from the services mentioned above, Protected Harbor delivers specialized IT services for small and medium-sized businesses. The certified IT engineers focus on keeping clients' businesses going. The team builds reliable IT infrastructure with a strategic approach that drives clients' business growth.
About the Author
Working as a Content Writer at GoodFirms, Anna Stark bridges the gap between service seekers and service providers. Anna's dominant role is to figure out company achievements and critical attributes and put them into words. She strongly believes in the charm of words and leverages new approaches that work, including new concepts that enhance the firm's identity.