The Hidden Costs of MICROSOFT 365
What You Need To Know
In this always-advancing era of technology, every company should have a strategic plan for moving their applications and data to a cloud. Microsoft 365 is an excellent choice for companies that want the security and control of on-premises software with the flexibility and cost-efficiency of a cloud service.
If you're considering Microsoft 365 for your company, read this post to find out if this is the right move for your business.
What Exactly is MICROSOFT 365?
Microsoft 365 is a subscription service-oriented for enterprises and businesses, combining many of Microsoft's current products under one license.  It is effectively a package of services that contains all of the desktop apps and services offered by Office 365. So if you already use Microsoft apps like Exchange, SharePoint, or Skype for Business, or if you use any third-party apps that integrate with Office 365, Microsoft 365 makes it easy to combine everything into one cohesive experience. Microsoft 365 also simplifies setting up workspaces for any new employees, making the process near seamless for your IT team.
Cloud Services Have Hidden Costs – Know This Before You Move
The biggest thing to remember about cloud services like Microsoft 365 is that the initial costs are low, but there are hidden fees.
The upfront costs are minimal because you are essentially renting the software—not buying it. An example of hidden fees would be, needing a high-speed internet connection to ensure smooth, efficient collaboration with your co-worker plus needing a robust backup and disaster recovery plan to prevent data loss in the event of a hack or natural disaster.
Cloud services like Microsoft 365 do not come with these necessary essentials at the base price.
How to Determine if Moving to MICROSOFT 365 is Right for Your Company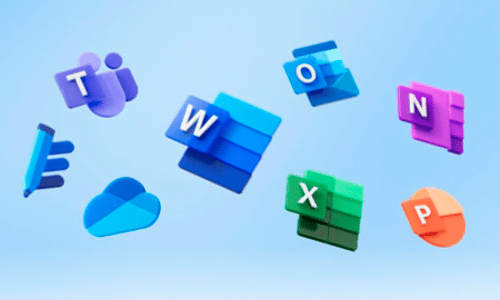 To determine if Microsoft 365 suits your company, start by understanding your business requirements and goals. What applications do you need to run? What are your security and compliance concerns? What are the current and future costs of on-premises software versus the cost of Microsoft 365?
Regarding security and compliance, Microsoft 365 brings the full power of Windows to the cloud. This means you have the same robust security and compliance features as on-premises software and end-to-end encryption's added security. There are also low upfront costs when you make the switch to Microsoft 365.
You'll likely save on IT support, hardware, and software licensing.
No Support, No Backup
Microsoft 365 offers no assistance with issues, problems, or concerns.
If a problem comes up that is too difficult for you or your IT team to solve, you are on your own and will need to find a third-party solution. Help is only available to customers who have signed an Enterprise Agreement or enrolled in a Volume Licensing Program. It is important to note that there are no phone support options available for Microsoft 365.
The support that comes with microsoft 365 may not even be enough for your needs, either. If you have specific needs or requirements for your network, you may want to hire an outside IT company to provide these support services.
Microsoft 365 doesn't give the feature of a backup either, so to keep your business safe in the event of a disaster or outage, you will need to have a plan in place that ensures your critical data is stored in a separate location.
There are several clouds and on-site options available that offer backup solutions for Microsoft 365.
No Monitoring, No Help
Moving your company's apps to Microsoft 365 gives you complete control and governance over your data. However, if you're experiencing performance issues or have questions about how to best use your applications, you may not get the help you need. With most cloud services; monitoring and support are minimal. With that said, some cloud providers will offer managed services to address this problem.
You may want to investigate whether your specific provider offers managed services or if they can recommend a third-party provider that can help you get the most out of your applications.
Final Words: Is MICROSOFT 365 Worth It?
Microsoft 365 is a great way to give your business the best of Microsoft's software. It's packed with the best of Microsoft Office, offers all Microsoft features for your PC, plus it gives you access to a standard email client. It's an excellent choice for small businesses and individuals who want to standardize on Windows software.
Free Microsoft 365 security may be appropriate in some situations, but it also has the potential to cause issues and end up costing more than you anticipated. Similarly, a sophisticated security solution can offer superior security and compliance defences in today's complex cyber security environment.
At Protected Harbor, we're dedicated to providing enterprise-level cloud security for businesses of all sizes. Our team of engineers and analysts works daily to stay on top of new developments in cloud security. We strictly focus on keeping your data secure from regular vulnerability scanning, to frequent updates, and 24/7/365 monitoring.
With the ever-increasing risk of cyberattacks, it's more important than ever to have a secure cloud solution. Our team works tirelessly to keep your data safe and secure. Still confused about opting for a cloud- provider, consult one of our experts now, and get a free IT audit.